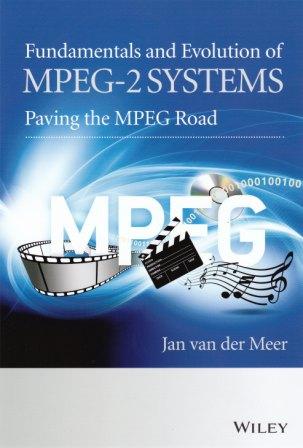 From its back cover...
This book describes the fundamentals and details of MPEG-2 Systems technology
.
This book, written by an expert in the field, examines the MPEG-2 systems specification as developed in the early 1990s and its evolution into the fourth edition of the MPEG-2 systems standard, published in 2013. While MPEG-2 systems will continue to evolve further, this book describes the MPEG-2 system functionality as of October 2013. Furthermore, relevant background information is provided. The discussion of MPEG-2 system functionality requires knowledge of various fundamental issues, such as timing, and supported content formats. Therefore also some basic information on video and audio coding is provided, including their evolution. Also, other content formats supported in MPEG-2 systems are described, as far as needed to understand MPEG-2 systems.
Ordered logically working from the basics and background through to the details and fundamentals of MPEG-2 transport streams and program streams

Explores important issues within the standardization process itself

Puts the developments on MPEG-2 systems into historic perspective

Includes support of 3D Video and transport of AVC, SVC, and MVC

Concludes with additional issues such as real-time interface, delivery over IP networks, and usage by application standardization bodies

Predicts a continuing promising future for MPEG-2 transport streams
This book will be an invaluable guide for technical experts and managers involved in designing products that are required to be MPEG-2 systems compliant; standardization experts designing extensions of MPEG-2 systems and/or standards that address similar design problems; engineers developing related applications. Lecturers; final year undergraduate students; graduate students; researchers will also find the book of interest.
MPEG is well known for its digital audio and video compression standards, such as MP3 audio and AVC video, enabling a worldwide range of very successful applications. Examples are Video CD, DVD, Blu-Ray, Digital television, digital audio broadcast, and internet streaming applications. Typically, these applications require a single data stream to carry the compressed audio and video data. For this purpose, the MPEG-2 systems standard is defined.
The book describes how packets with compressed audio and video data are carried in a single MPEG-2 system stream. Also, requirements on the decoding and presentation of carried audio and video data are described, for example, how to achieve synchronized playback. The basic principles and features of MPEG-2 Systems are described, as well as details of its design. Furthermore, several background issues that played a role in its design are discussed. It shows how inspiring it is to work together with experts from all involved (and often competing) industries, research institutions, and universities.
Several sometimes humorous anecdotes are included; the book is concluded by a funny epilogue, written by Chad Fogg with an amazing communication from the Future backward through time. The book is written in a way that makes reading fun. The result is a book that provides a historical context to the development of technology that enabled a huge consumer market for digital television broadcast and optical discs to take off. A book that may sometimes let the reader smile and even laugh out loud...