The MPEG-2 transport stream format is used for Digital TV and Blu-ray to transport digital video, audio, and other data in transport packets. The packets are defined so that accurate synchronization of audio and video is possible. The format is future proof and allows a high quality of service in an error-prone environment. When new generation audio and video compression standards emerged, such as AAC, AVC, and HEVC, the MPEG-2 transport stream format was successfully extended to support those new standards. Thereby, the road was paved for emerging MPEG audio and video standards in digital television applications. As a result, the transport stream format became the basis of a huge infrastructure for producing and distributing audiovisual content for television.
The market enabled by the MPEG-2 transport stream format is enormous. For digital television services, yearly hundreds of millions of set-top-boxes and digital TVs are shipped worldwide, not even counting the number of optical disc players, optical discs, and mobile devices supporting transport streams yet. In other words, the MPEG-2 transport stream format is the main driver of the market for audiovisual content already for nearly twenty years and is expected to remain so for many more years to come. In recognition of the importance of the transport stream format for digital television, the National Academy of Television Arts and Sciences decided to honor MPEG with a prestigious 2013 Technology and Engineering Emmy Award.




Emmy Award Ceremony

9 January, 2014
Las Vegas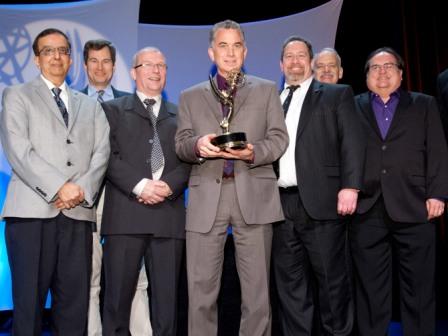 At the Emmy Award Ceremony on January 9, 2014, in Las Vegas, the Emmy Award was presented to the MPEG Systems group that developed and standardized the transport stream format, as initially published in 1996. Several key members of this group were present; from left to right on the picture:
Sam Narasimhan
David Pogue (the host of the Emmy Award Ceremony)
Jan van der Meer
Sandy MacInnis (chair of the MPEG System group at that time)
Matt Goldman
Paul Moroney
Gary Logston
Unfortunately, some other key people could not attend, such as Pete Schirling (editor of the original systems specification) and Leonardo Chiariglione, the MPEG convenor.